"What is it you REALLY like to do?"
"Eat!"
It's strange when your everyday life connects so much with a film. Since March, I've been in Culinary School, following my love of food and trying to figure out what kind of career I want to have (while dealing with those who underestimate me). Two months ago this weekend, I started this blog out of my love of movies and my want to write again. Julie and Julia is about two very real women: one who loves to cook and strives to prove naysayers wrong and another who, inspired by the first, finds her love of cooking and writing and rediscovers her calling. This movie just might have been made for me.

It's 1948. Julia Child (Meryl Streep) and her American diplomat husband have moved to France. After trying a few different hobbies (including hat-making and bridge), she decides to learn to cook at Le Cordon Bleu, much to the chagrin of her serious, male classmates. Over the next few years, she masters the art of French cooking and works toward her dream of bringing a comprehensible French cookbook to American households.
It's 2002. Julie Powell (Amy Adams) is living in her tiny apartment in New York, working as a secretary for a development group involved in rebuilding the twin towers (which might just be the most depressing job ever). A promising writer in college, she now gets to see her successful friends become more and more successful while she is spinning her wheels. When one of these successful friends starts a blog, Julie becomes more than a little outraged and decides she can write one, too. Because she loves to cook, Julie takes on the task of making every one of the recipes in Julia Child's cookbook within the scope of one year. That's 524 recipes in 365 days.
The acting in this movie is really well rounded. There are many smaller roles in this film that are so nicely done (I especially liked Jane Lynch's understated role as Julia's equally robust sister and Mary Kay Place as Julie's not always supportive mother, whom we only hear over the phone). Still, there are really four main characters in this film: the two women and their husbands. Stanley Tucci truly shines as Paul Child, who is just head over heals in love with Julia. The chemistry is so perfect there. In that day and age, it was so rare for a husband to not only support, but encourage his wife to go out and be successful on her own. Even when his career is jeopardized (thanks in large part to McCarthyism), he did his best to not let that affect Julia and her work. It was really lovely to watch the couple and Tucci makes it look effortless. Chris Messina plays Julie's husband, Eric, who is also very supportive of his wife. There is a moment in the film when he gets frustrated by his wife's project, but he doesn't seem overly harsh, just upset.
I won't lie; Julie as a character comes very close to being obsessed with Julia Child. She completely idolizes her and sometimes it comes off as just too much. This over-the-top fandom is more the character than Adams' acting choices. Actually, Adams as an actress walks the line between quirky and annoying and comes off alright for the most part. There were only a few moments here and there when I thought, "OK, it's a little weird." And while I realize this is the story of a real woman and this could very well be how she acted… it felt just slightly off.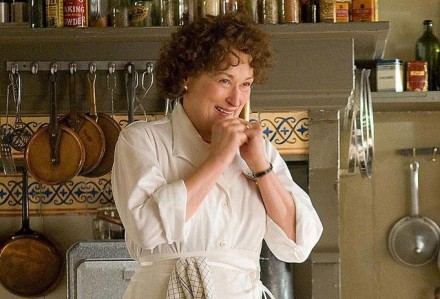 Above all, the tour de force is Streep. I didn't grow up watching Child on TV and even though I am a foodie, I didn't know too much about her until this year. But over the 123 minutes of the film, I found myself convinced that I was watching the real Julia Child on screen. There was a moment or two when I reminded myself that it was actually Meryl Streep, she's that convincing. She's not only convincing, she is delightful. Early in the movie, it's mentioned that once moving to Paris, Julia makes friends with even the most surly Frenchmen. I think Streep charmed every person in the audience the same way. Perhaps the only thing I could say is that we only really see her at her most charming. There is a part towards the end where it is suggested Child was less than thrilled about the Julie/Julia project. It doesn't seem to fit with the Julia we see in Streep and there isn't really an explanation.
I would be remissed if I didn't mention the overall direction of the film. Director and writer Nora Ephron is easily best known for romantic comedies like Sleepless in Seattle and You've Got Mail. Luckily for us, this doesn't feel like a romantic comedy. It feels like a biopic. A delightful, enchanting biopic, but a biopic none-the-less. Which is good, because that's what it is supposed to be. You get to see two women going through very similar points in their lives: moving to a new place, taking on new endeavors, having those endeavors falter, receiving harsh criticism and ultimately succeeding. Ephron makes a point to show the parallel events back-to-back, but it never feels forced. Occasionally, a section with either Julia or Julie would go a little too long and I felt myself wanting to find out what happened next in the other story. I was also surprised that they end Julia's story with the publication of her book and not the start of her television career. Close to the end, her husband suggests that she would be great on TV, but I would have liked to see her first putting together her program (although Julie does watch reruns of Child's show and that was really entertaining). What the direction does more than anything, however, is give food the spotlight. There is some beautiful food featured in this film, in both women's worlds. The very last dish Julie makes is duck (deboned, which scares her to no end) wrapped in pastry. It looks like art, it's so pretty (I had to wonder if this was some evil plot by the theater industry to get us hungry so we would buy more popcorn). But what's great about this movie is that the food isn't just food, but a metaphor for passion: passion in love and passion in life.
Overall: A delectable, charming biopic that teaches as much about the importance of enthusiasm and persistence as it does about cooking. If anything, see it for Streep's performance.
4 out of 5 Stars